Tuesday, July 04, 2006

Sabes y Puedes
Ada sebuah peringatan dalam skala dunia yang berlangsung setiap tanggal 1 Desember. Ia adalah Hari AIDS Sedunia. Tak perlu menunggu hingga bulan Desember untuk merenungi tentang isu yang satu ini; karena menurut saya kalau perlu setiap hari pun kita harus merenungkannya. Betapa dahsyat akibat yang telah dibawa oleh penyakit yang satu ini. Tak terhitung sudah berapa jutaan nyawa melayang karenanya. Afrika dan Asia sebagai benua yang "tertinggal" merupakan sebagian dari yang paling parah menderita disebabkannya. Kemiskinan dan ketidakpedulian sekali lagi berkuasa dalam merenggut hidup manusia.

Tidak kah ini semua membuat hati kita miris...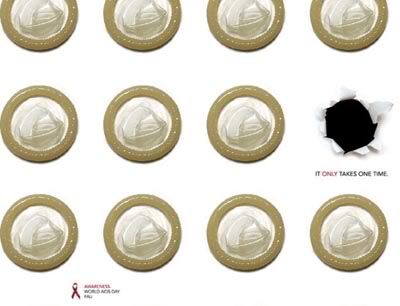 Manusia ditakdirkan dengan akal dan pikirannya yang senantiasa berkembang. Melalui kecanggihan ilmu pengetahuan dan teknologi, manusia terus berusaha dalam penelitian untuk mencari penyembuhan akan "bencana" ini. Hingga saat ini memang belum ditemukan obat penangkal AIDS, namun bukan berarti ini semua tak dapat dicegah. Dengan sedikit kepedulian dari anda, usaha pencegahan untuk penyebaran AIDS niscaya dapat berjalan dengan baik. Kepedulian terhadap diri sendiri, terhadap pasangan, dan juga kepedulian kepada umat manusia.

It shouldn't be too much trouble, guys... as it only takes one time to be safe. Always have condoms ready as you never know when you're gonna need them :-p Yang namanya "panggilang tugas" selalu datang pada saat yang tak terduga, 'kan? fufufu *wicked smile*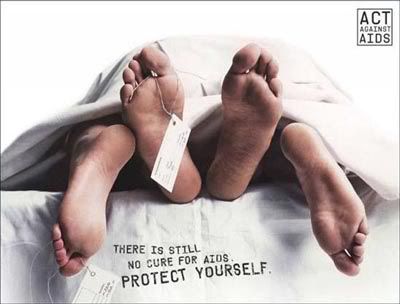 lindungi diri & pasangan! bukan begini cara mengakhiri hidup anda

The key is: you CAN make it, because you KNOW and you CARE about it. And if YOU can make it then WE can make it. Daripada dipusingkan dengan berbagai urusan tingkat tinggi kenapa tidak memulainya dengan sesuatu yang sederhana. Dengan sesuatu yang mudah dan langsung pada diri anda sendiri. Karena anda peduli pada diri sendiri, pada pasangan ... dan pada semua manusia di planet ini.

Remember guys: always play it safe :-)

Semoga posting kali ini mampu sedikit memperkaya khazanah wawasan dan kepedulian anda pada umat manusia di planet ini. Hope this finds you all well. Sukses selalu dalam karya dan cipta. Groetjes.

posted by dodY @ 21:19